Tourism is among the fields that have benefited most from the digital revolution of the last few years, with a range of online services that provide services at lower cost than in the past, in large part due to the elimination of intermediaries.
Thanks to digital tourism, today's consumers have become more demanding and have learned to seek new experiences beyond those of traditional tourism.
Since February of this year, online tourism is available through a new service, ZesTrip.it. This is a tourism marketplace where users who want to visit Italy can virtually meet locals, and experience parts of their life through the portal. There are paid paths and activities related to the worlds of food, art and culture, fashion, outdoor activities and workshops.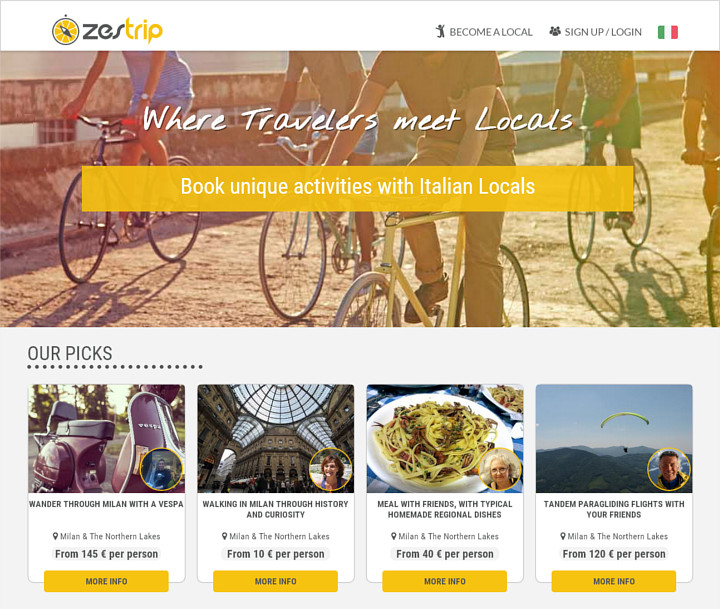 WebRatio Platform was used to create this portal, which is modern and responsive and employs a highly personalized visual identity that is consistent and distinctive. The user experience is completely customized, with dynamic features that make it easy and intuitive to navigate and use the site that is composed of more than 60 pages.
The application allows users to manage the whole process of booking tourist activities provided by a local, and includes custom features such as:
Selecting the number of people (specific for each activity) and dynamically varying the price (as more people book an activity the price decreases).
Selecting a date through a dynamic calendar that is customized based on the availability of the local individual local who is providing the activity.
"Freezing" the amount of the booking until it is confirmed and integration with PayPal, which manages the authorization to charge the fee for the booking.
Sending messages within the platform to allow the exchange of information within the ZesTrip community.
WebRatio Platform made possible the complete customization of ZesTrip.it, from its layout to its innovative features. This proves that WebRatio Platform is suitable for creating applications such as ZesTrip.it, and that it allows professionals and companies to offer modern and innovative services that differentiate them within their own markets.