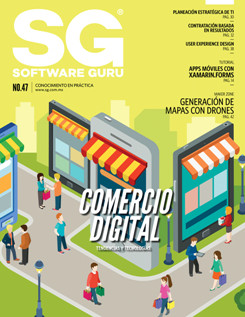 47th edition of Software Guru
The 47th edition of Software Guru (SG) presents a one-page article about the WebRatio Platform and summarizes all its advantages for the companies that envisage becoming market leaders and that are looking for tools and methodologies to achieve their goals.
Firstly, the article mentions the challenges of the digital business era and how organizations can stand out in the market by offering unique products and services. It offers a general description of the WebRatio Platform and the way Web or mobiles Apps are created as well as introduces some of the innovative applications built with the platform. Finally, there is a little company overview where our Mexican Partners are presented.
Software Guru is a magazine targeted at IT professionals who seek to obtain knowledge and expertise in the area; for this reason, the themes published in SG are focused on the needs of the readers and the latest sector trends. After 10 years in circulation, reaching more than 50,000 subscribers each month in Latin America, Software Guru has become the preferred source of reliable information for the experts and entrepreneurs of software in the region.
SG EVENT
Every year, Software Guru organizes the SG Conference & Expo, the most prestigious conference for software developers in Latin America, to be held in Mexico City on July 1 and 2. WebRatio sponsors this important event and will be present at two conferences presented by Matteo Silva, Latin America VP & GM. There will be also an informative stand, located in the dedicated zone, where attendees can get more information about the WebRatio Platform.