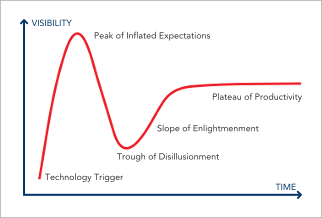 Figure 1: Gartner Hype Cycle
The Gartner "Hype Cycle"
The "Hype Cycle" is the graphical tool used by Gartner researchers to show the maturity and adoption of technology in different tech fields.
Every new technology goes through a "Hype Cycle", which is a characteristic evolution of interest and expectations by markets over the course of time (see figure 1).
What is the BPM Hype Cycle for 2014?
This year, Gartner reviewed BPM technologies, applying the Hype Cycle to provide insight.
From the analysis it appears that BPM disciplines and standards are now well known and are being adopted by companies (reaching the "Plateau of Productivity") and are becoming mainstream (globally recognized and used by organizations all over the world). The upper curve, called peak of expectations, indicates that there is a lot of curiosity about topics such as "Advanced Business Process Analytics" and "BPM for Customer Service and Support" with a lot of corresponding expectations.
Where is WebRatio?
WebRatio has focused on the evolution of the WebRatio Platform. We have created a Cloud version, which Gartner has analyzed and characterized as a "bpmPaaS" solution and "middleware as a service". bpmPaaS platforms are used to build, run, manage and improve business processes and also to develop flexible applications that can be adapted to process variation and to market needs in a very short time.
From Gartner's point of view, in the last 12 months the interest in bpmPaaS raised the corresponding "Peak of Inflated Expectations", becoming an early mainstream technology that is moving to constant utilization by companies (see figure 2).
Gartner also states that bpmPaaS adoption benefits are numerous, and that bpmPaaS is now used by 20% to 50% of the target audience. Gartner forecasts that bpmPaaS solutions will reach their constant productivity level (Plateau of Productivity) and maximum diffusion (becoming mainstream) within 5 years.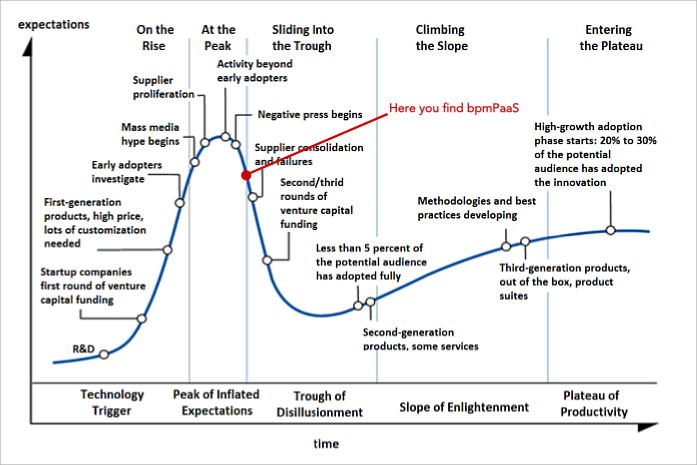 Figure 2: Modification "General Hype Cycle for Technology" (Source: Wikipedia)
When to Use a bpmPaaS, and What is the Business Impact?
According to Michele Cantara, Gartner analyst and research author, organizations can adopt bpmPaaS to:
conduct pilot projects starting from an on-premises solution;
develop and test environments to save capital expenditures on software and hardware;
face unpredictable demand with elastic deployment options (you can deploy at any time, and the available space for the application can increase or decrease depending on requests);
quickly build new flexible applications to differentiate, innovate or extend their systems and services;
provide an easy-to-use application development platform for IT or even non-IT people who want to give life to their ideas about building Web and Mobile applications.
From a business point of view, a bpmPaaS speeds up solution development, helping companies reinvent and digitalize previously manual processes.
This, coincidentally, is the promise of WebRatio Platform.