THE COMPETITION AND THE IDEA OF ERICKSON
The national teacher-recruitment exam announced in late February involves the selection of more than 63,000 teachers for kindergarten, primary and secondary school and special education.
Edizioni Centro Studi Erickson, a leader in advanced teaching and teacher training, knows the value that new digital technologies can offer in the learning process by simplifying access to content, improving usability and increasing the number of users served.
The publisher has decided to create an online platform to meet candidates' needs in the national competition, a platform where they can find all the necessary materials and tests to prepare for the public exam, according to a precise methodological model.
THE SOLUTION: A PLATFORM FOR DIGITAL EDUCATION
Thus was born "Insegnare Domani Digitale", a Web-based training platform that enables the management and use of all digital contents made available by Edizioni Centro Studi Erickson in support of the participants in the public competition held by the Ministry of Education.
The platform has a public front-end system for teachers that provides functionality including personal profile management, integration with social networks to see the post in real-time, an online payment system and different navigation models for the use of materials through educational guided paths. The solution also provides a sophisticated back end with administration and presentation of digital content (text, video, PDF, images, test).
WHY WEBRATIO
Forecasting a potential user base of around 200,000 teachers nationwide, the publisher has chosen to rely on WebRatio, in collaboration with Eupragma srl, due to the extreme rapidity of implementation required by the project, the degree of customization required for the development of the online training platform and the high level of performance and reliability needed. At the launch the platform hosts 300 media, more than 100 mental maps and 60 video summaries with 15 guided paths; this basis will be developed through an editorial plan that provides for the weekly publication of new content with different educational objectives.
In just four weeks our team has developed "Teaching Tomorrow Digital," starting from the concept and design work of Eupragma, an expert and reliable technology partner with the same taste for innovation as WebRatio.
The platform has been published online in accordance with the established time-to-market plan, ensuring the performance and objectives agreed to in the planning stage.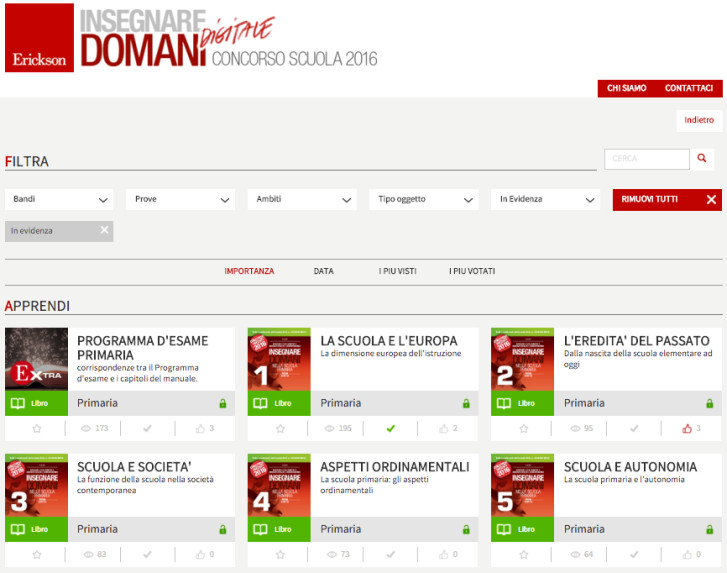 THE FUTURE OF ERICKSON IS DIGITAL
Once the 2016 recruitment competition has ended, the platform will be further developed to be one of the cornerstones of Erickson's online presence.
Edizioni Erickson wants to focus on innovation, betting on digital business and meeting the increasing demand for multimedia content available online. WebRatio is pleased to be at its side during this transformation.