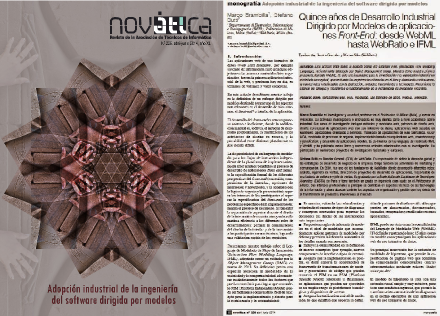 Novática is the official magazine of Spanish Association of Informatics Technicians (ATI).
Issue number 228, from the April-June period, includes a monograph on "Adopción industrial de la ingeniería del software dirigida por models" (industrial adoption of model-driven software engineering). You can see the table of contents here (in Spanish).
Inside the monograph is another paper entitled "Fifteen Years of Industrial Model-Driven Development in Software Front-End: from WebML to WebRatio and IFML", now available in our Books & Resources section on webratio.com.
The article, written by Marco Brambilla, Scientific Advisor, and Stefano Butti, CEO, both of WebRatio, has sparked interest in the Spanish-speaking market, and in particular South America, because it draws a continuous line in the story that led to the language IFML, now the standard adopted by OMG (Object Management Group).
The first proposal for a Model-Driven language, called WebML, has been instrumental in the research and industrial adoption software development through modeling. The essence of this approach, and its 15 years of industry experience, is based on WebRatio Platform, a development platform that allows you to create Web and Mobile applications without writing code.