Last December, we published an infographic describing all of the benefits that solutions developed with low-code technology bring to companies, their customers, and the entire value chain. These advantages are also demonstrated by the projects completed during the recent period.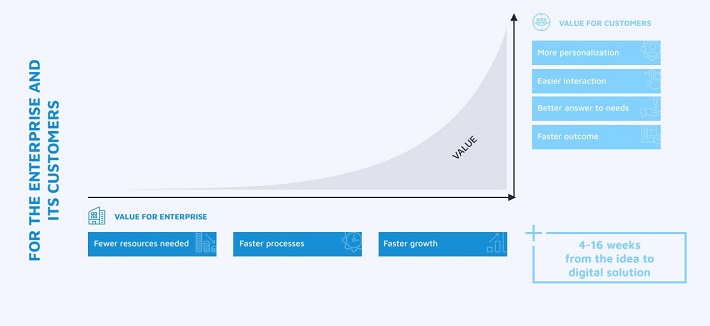 Fewer resources needed
The first benefit we find is the reduction of the resources necessary for development, which is often the basis for choosing low-code technology. Eupragma in the project for Disugual said it had evaluated some alternatives for the realization, but all of them would have had at least 20% higher costs and 4x development times compared with the results obtained with WebRatio Platform. The customer company, on the other hand, was able to adopt in a very short time a digital solution, customized according to its business model, which simplifies the interaction of sales agents.
Development speed
The speed of development is the second benefit that companies experience: if the enterprise adopts low-code technology, it can use an Agile approach that makes the development cycle faster, thus also simplifying the realization of very complex projects, as Gewiss stated in the case of home automation system development.
Faster processes
Thanks to BPA technology, developed with low-code, the company can achieve a speed increase of internal processes, such as in the case of order processing for Ricoh, which has achieved more than a 40% increase in efficiency. Obviously, from the customer's point of view, having shorter processing times means obtaining faster results and therefore achieving greater satisfaction with the service used.
"The result of the sum of development speed and customization ability is greater customer satisfaction because they get solutions that respond before and better to their needs"
Faster business growth
Faster business growth is the goal of every company, and thus, it is the most valuable benefit. This result was achieved at Eupragma, which in 1.5 years exceeded the most optimistic forecasts. This is because the technological driver, which the low-code technology brought, was a fundamental pillar and business accelerator of the project. This result was also achieved because the company was able to quickly offer an innovative and integrated digital solution that responds better to the needs of customers.
The relationship between value for the company and value for the customer
We wanted to represent the correlation between the increase in value for the company and that for the customer because the more important the advantages for the enterprise are, the greater the value transmitted to the customer. A company that is able to optimize resources and have faster processes, thus expanding its business, will more quickly provide answers that are suited to the customer's needs, with simpler interaction and customization down to the smallest detail.
"As the use of low-code technology increases, the pervasiveness of digitalization in the company also increases, and therefore, the value that can be obtained from technology grows. This greater value is also spread to customers, thus translating into an improvement in business results."