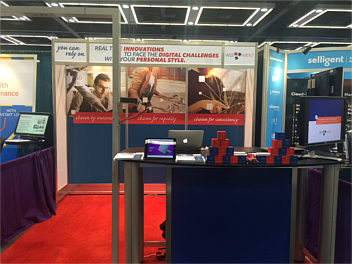 Figure: WebRatio Stand at Shop.org 2014
Sept. 29 - Oct 01: WebRatio attended the Summit 2014 @Shop.org, the largest event for digital retailers in the USA.
Big companies, such as eBay and Staples, shared their digital strategies. In roundtables and face-to-face meetings, they also gave suggestions on how to achieve success with online consumers. CEOs and VPs spoke about strategic topics, such as paid search, how to engage influencers, website optimization, and how to digitally evolve to keep market share.
WebRatio showcased a Web application, which is a Web dashboard that gathers data when people pass by a door, interfacing with a real-time "people counter" sensor. This is an example of an application that exploits the possibilities of the IoT (Internet of Things), a step-forward solution to digitize a retail business.
As shown in the picture on the right, the WebRatio booth was set up to allow attendees to pass through a "people-counter" sensor. This helped them to understand at a glance the potential of an application connected to the Cloud, providing real-time deep analytics to make smart and rapid decisions.
Representatives of WebRatio met with several attendees at the Summit 2014 in Seattle and shared our case studies of projects developed for first-class companies, such as Acer and A2A, that have digitized their businesses or improved business automation. These projects were all completed in just a few weeks, thanks to the WebRatio Platform.