The Low-Coder is a multidisciplinary business-focused developer we described in the identikit "The Professional Low-Coder", whose demand is growing at the pace of the market rise, by 25% a year.
Since this job role is a hybrid between Business and IT, with skills from both fields, the professional journey typically starts from one of the two disciplines to move in the direction of the other (figure 1).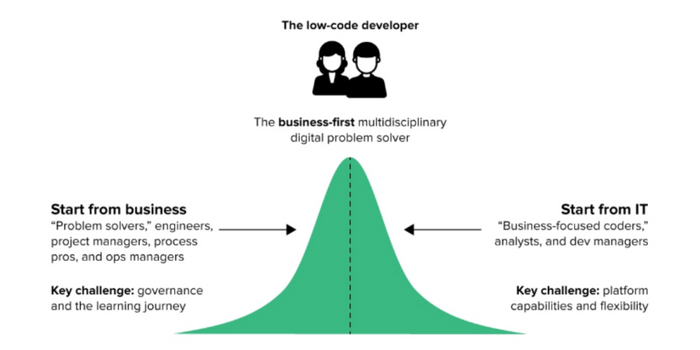 Source: Forrester report "Professional Low-Coders:What The Data Says", May 2022
Looking at the left side of the figure we find professionals starting from a business background, who are problem solvers focused on projects, processes, and operations. Their key challenges are the governance of the development cycle and the learning path to use the Low-Code Platform.
This is the case of an engineer who starts learning business process analysis and modeling, becoming a WebRatio developer that draws BPMN diagrams to define the digital processes of its business that are automatically transformed in running web or mobile applications by the platform.
On the other side, we look at a professional who starts from an IT background but has a natural tendency to focus on business, and whose key challenge is to find in the Low-Code Platform the power they are used to have with high-code approaches.
This is the case of an application developer that, thanks to low-code, starts to deal with the whole SDLC, as described by McKinsey, and not only with a part of it, because of the development speed given by Low-Code environments such as WebRatio Platform. The end-to-end vision of the application developed enables developers to focus on processes and software quality rather than on technology boundaries, enabling them to apply their business acumen in software development.
Even if professionals can start from opposite sides, the more they learn and use Low-Code Platforms, the more the difference between roles blurs and they can develop and continuously evolve enterprise applications side-by-side to have an incremental positive impact on business efficiency and value.
Read more about Low-Code technology >