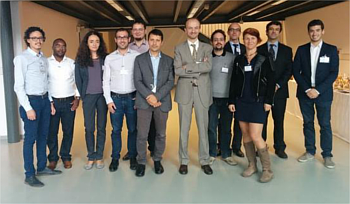 Photo: Automobile Project Meeting at WebRatio headquarter in ComoNExT
WebRatio partnered with Politecnico di Milano in the EU Research Project named "Automobile". This is an automatic code generator for cross-platform mobile applications based on HTML5, CSS and JavaScript, optimized for the Apache Cordova framework.
On the 10th of October, representatives of the European Commission visited the headquarters of WebRatio, at ComoNExT in Lomazzo Italy, to review the status of the Automobile Project and they were really impressed with what they saw.
Automobile is a research project led by WebRatio and funded by the European Commission (under the 7th Framework Programme, Research For SMEs call). The project relies on modeling languages such as IFML (Interaction Flow Modeling Languages) and on tools like WebRatio. The project will exploit model-driven engineering and code generation to design and bring to the market innovative methodologies, software tools, and vertical applications for the cost-effective implementation of cross-platform, multi-device mobile applications. Automobile aims to dramatically simplify multi-device development, substantially reducing both cost and development times.
This project show the potential of WebRatio Platform, which was developed by researchers. WebRatio Platform never stops evolving, thanks to the ongoing work of researchers, developers and professionals.
Visit Automobile Project to know more about the evolution of this research project.