Agile is one of the most adopted methodologies worldwide, together with DevOps[1]. Its benefits in software development are well-known[2], from development effectiveness and quality to faster time-to-market and early ROI.
The Forrester report "Low-Code And Agile: Rocket Fuel For Digital Business"[3]; analyzes the combination of Low-Code + Agile and what emerges is that, in the Agile's relationship between people, processes, and technology, Low-Code is the technology that facilitates the conjunction between people and processes, because it has a positive impact on both.
From a people's point of view, Low-Code productivity helps developers shortage and the visual approach supports collaboration between business and IT. From a process point of view, the simplification of collaboration between stakeholders leads to a better understanding of the processes and practices.
Low-Code implements the Agile practices, such as fast creation of MVP, continuous feedback, and improvements, stimulating the responsiveness to changes and facilitating the change management needed during the digital transformation in a company.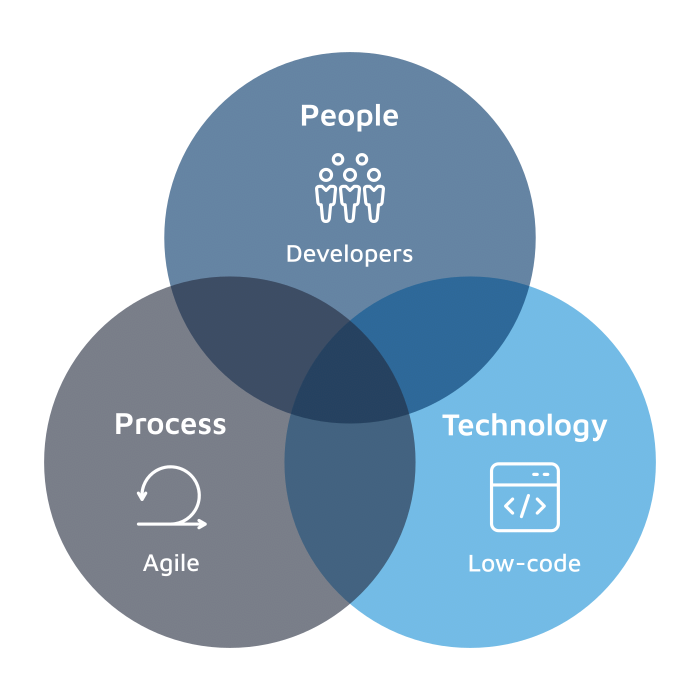 Source: Forrester Report, https://www.forrester.com/report/low-code-and-agile-rocket-fuel-for-digital-business/RES178789?ref_search=0_1677075991321
If Low-Code implements Agile, also Agile takes Low-Code to the next level, because it adds a methodological framework to the technology, prioritizing the focus on users, use case, and defining how collaboration can be enacted by technology (e.g. having always working software).
Agile and Low-Code, therefore, fuel each other[4] ,and together they shift the paradigm of development to the future of digital business.
How Low-Code and Agile fuel each other?
Looking at the Agile Manifesto and Low-Code practices, it is clear that the speed of Low-Code makes it possible to focus on individuals and interaction, instead of technology. The visual approach reduces the need for documentation, speeding up the development and experimentation process, thus taking more responsiveness to change. Requirements are substituted by MVP, and businesspeople with developers can work side by side to reach both business and technical goals simultaneously, involving customers in the development lifecycle.

Source: Forrester Report, https://www.forrester.com/report/low-code-and-agile-rocket-fuel-for-digital-business/RES178789?ref_search=0_1677075991321
The Agile + Low-Code combination helps companies create more value quicker since the developed applications meet better customer needs and the development focuses more on business goals. The collaboration between people from different departments enables not to leave out any aspect since everyone can put his/her skills at the service of the development process, for the common goal of business success.

The no-vendor lock-in, the open technologies, and a bespoke adoption strategy of WebRatio Platform let companies take easier and safer all the advantages of the conjunction between Low-Code and Agile, enabling them to focus on digital business instead of on technology.
Read an interview about Agile and WebRatio Platform >
Sources
[1] https://www.statista.com/statistics/1233917/software-development-methodologies-practiced/
[2] https://dzone.com/articles/what-are-the-benefits-of-agile-development-methodo
[3] https://www.forrester.com/report/low-code-and-agile-rocket-fuel-for-digital-business/RES178789?ref_search=0_1677075991321
[4] https://www.forrester.com/blogs/agile-low-code-digital-transformation-rocket-fuel/